Introducing K8 WebShop
K8 WebShop is a quick to deploy web solution that makes it easy to sell your products online. With easy to tailor options and features, your core web shop could be up and running in a matter of days. K8 WebShop is available as an off-the-shelf subscription package, which contains a range of designs and features to suit your needs.
K8 WebShop provides a high degree of flexibility that allows the site to be tailored to match your own brand identity. It offers a template solution, which can be customised to suit your preferred colour scheme. You can modify the design by adding your company logo, including a background image, and displaying your own banner adverts.
The subscription package provides a wide range of features that fulfil the requirements of most product and accessory retailers. If you require additional functionality, please contact us to discuss a bespoke solution.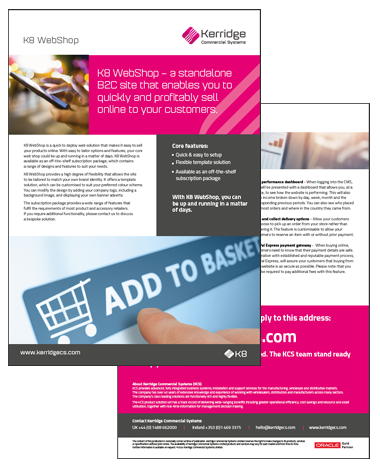 Receive the K8 WebShop Datasheet